Magaera
Jul 8, 2023 23:56:05 GMT -5
Post by Emperor Ticoga on Jul 8, 2023 23:56:05 GMT -5
GENERAL INFORMATION
NAME
: Megaera
ALIASES
: N/A
AGE
: 279
GENDER
: Female
COMPANION TYPE
: Minion
SPECIES
: Oni
LIFE LEECH

When you have dealt 60%/80%/150% Cumulative damage to an enemy, upon the enemy being KO'd/wounded/killed in the same split/thread, you regain 1(60%)/2(80%)/3(150%) KP & MP. This effect caps at 2 if the enemy is at or below 80% of your PL, and caps at 1 if the enemy is at or below 60% of your PL.
OTHERWORLD TRAINING

You may use multiple Offensive techniques in a single post, to a maximum of three. This is usable twice per thread, and will only work with Standard Techniques. You can also post freely in the Otherworld boards even if you are not dead. In addition, once per month, you may travel instantaneously from one planet to another with up to 5 others.
Optional Trait Pick
:
DEMONIC MIGHT

While in your strongest available form, you may activate 10% MP Power Boosts on all of your Attack Techniques for free. This halts your momentum regeneration for that turn. However, you may not use any Power or Ki Boosts on defensive techniques with your MP in your strongest available form.
GENERAL TRAITS:
VAMPIRIC
Once per thread, you may designate a Standard Attack as 'Vampiric.' If this attack deals any damage, you choose to recover 1 KP or 10% HP.

TENACIOUS
Once per thread, a Non-Heavy Standard technique you use during combat costs -1 KP. This cannot make it cost 0 KP. It cannot have its power boosted in any way.
---
CHARACTER DESCRIPTIONSAPPEARANCE
: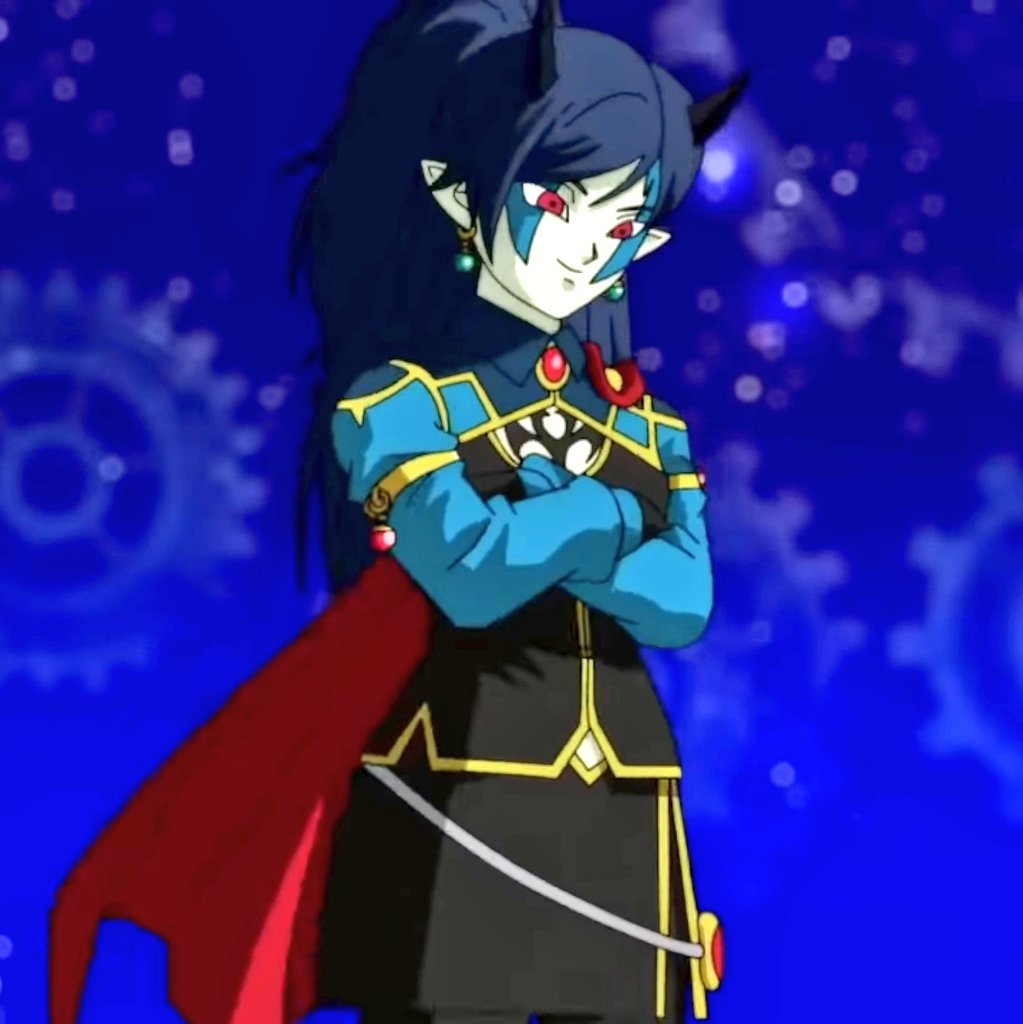 ((Robelu Dragon Ball Heroes))
BACKGROUND
: Magaera is a highly intelligent and cunning denizen of the Demon Realm. While never particularly powerful, Magaera nonetheless was apprenticed to one of the Demon Kings. With the rather gruesome death of her master, Magaera was forced to flee the Demon Realm as her master's power base and supporters were duly annihilated.
She managed to escape to the Living Realm, though only barely, and fled through the cosmos for a quarter of a century before coming upon the Arcosian Empire. She does not yet know what to do next - whether that be to return to the Demon Realm and avenge her Dark Master, or to avoid ever returning home for fear of her own demise. Rather than mope and wonder, Magaera has opted to make a meager living for herself.
She recently came into contact with Ticoga, and seeks to attach herself to the new Emperor. Hopefully, one day this Frost Demon, as some called the Arcosians, would help her figure out that very issue.
---
COMBAT INFORMATION
TECHNIQUES
: You start with
Three Standard Technique Slots
and
One Sparking Slot
that you can use any way you like. Some species start out with an slots. You also start with
two additional Utility Technique Slots
.
Light Attack Technique || Black Arts Conjuring: Flames of Hell
Megaera holds up a hand, creating a summoning circle in the air, and blasts the target with purple-black flames!
Power: 40%


KP Cost: 2KP
Tech Slot: Starter

Light Defense Technique || Black Arts Conjuring: Shield
Using her tome, Magaera summons a shield of magic that defends her against enemy attack!


Power: 20%


KP Cost: 2KP


Variants: Shield: Your technique will reduce any bleed-through from a failed defense by 30%, if your PL is within 60% of the attack's remaining PL.
Tech Slot: Starter

Medium Attack Technique || Black Arts Conjuring: Sword of the Demon King
Magaera summons a gleaming falchion once wielded by a great Demon King, and slashes at her foe!


Power: 50%


KP Cost: 4KP


Variants: Bleed: Your technique will inflict the Bleeding Status if it deals more than 20% damage to a target. This will last two turns.
Tech Slot: Starter

Heavy Attack Technique || Black Arts Conjuring: Blade Dance
Magaera creates a dome of magic surrounding her and her opponent, and fires hundreds of Ki spear-like Ki blasts at the opponent from all directions!


Power: 60%


KP Cost: 6KP


Variants: Exhausting: Your technique applies the Exhausted Status when it deals at least 10% damage to a target. This will last until your target uses their next technique.



Piercing: Your technique halves the power of all Defensive Techniques that do not have the Evasive Variant.
Tech Slot: 100k Sparking Main slot

Heavy Attack Technique || Black Arts Conjuring: Sphere of Apocrypha
Magaera raises a hand overhead, and creates a massive ball of blazing purple flames, and hurls it at her foe! The attack will pursue the target, no matter their speed!


Power: 80%


KP Cost: 6KP


Variants: Homing: Your technique completely ignores Defensive Techniques of the same or lower tier that have the Evasive Variant. When used against a higher tier Evasive Variant, Homing attacks instead gain 20% to their power.
Tech Slot: 100k Sparking Main slot

Medium Sparking Attack Technique || Makaio Bomb
Magaera tears the life force from her environment, living and spiritual energies both, and coalesces them into a thrumming sphere of blackness so deep, that no light can penetrate it. Once ready, Magaera hurls the ball at her foe, at which point it will suddenly and rapidly expand, vaporizing all within its borders.


Power: 60%


KP Cost: 2KP


Variants: Preparation: You charge your attack for up to two posts. Charging for one post adds +20% to your Sparking Technique's power, while two posts adds another +20% atop (40% total). You fire the post after you finish, but your KP and MP is consumed when you start the charge. You cannot regain KP naturally while charging, but your passive MP regeneration continues normally as you charge. You cannot use any other techniques while charging unless you fire or cancel your charged attack.
Tech Slot: 100k Sparking Main slot

Utility Technique || Flight


Using magic, Megaera can fly!
Tech Slot: Starter

Utility Technique || Tome of the Black Arts ((Renamed Magic Materialization))


Characters with magical abilities can conjure objects or structures. Larger or more complicated things will take more energy and focus to create. This technique is passive and does not require KP. Megaera utilizes a tome from the Demon Realm to call on her magic.
Tech Slot: Starter
ADDITIONAL NOTES
: Please convert 1,700 XP to Magaera's PL!