Post by Mollusc on Dec 12, 2022 14:20:42 GMT -5
NAME: Mollusc
ALIASES:
AGE: 10
GENDER: Male
SPECIES: Namekian
Traits: (Regeneration) (Warrior Caste) (Battle Wisdom)
GENERAL TRAITS: Bare Knuckle Brawler, Tenacious
STARTING PLANET: Namek
HOME REGION: None For Now
CHARACTER DESCRIPTIONS
APPEARANCE: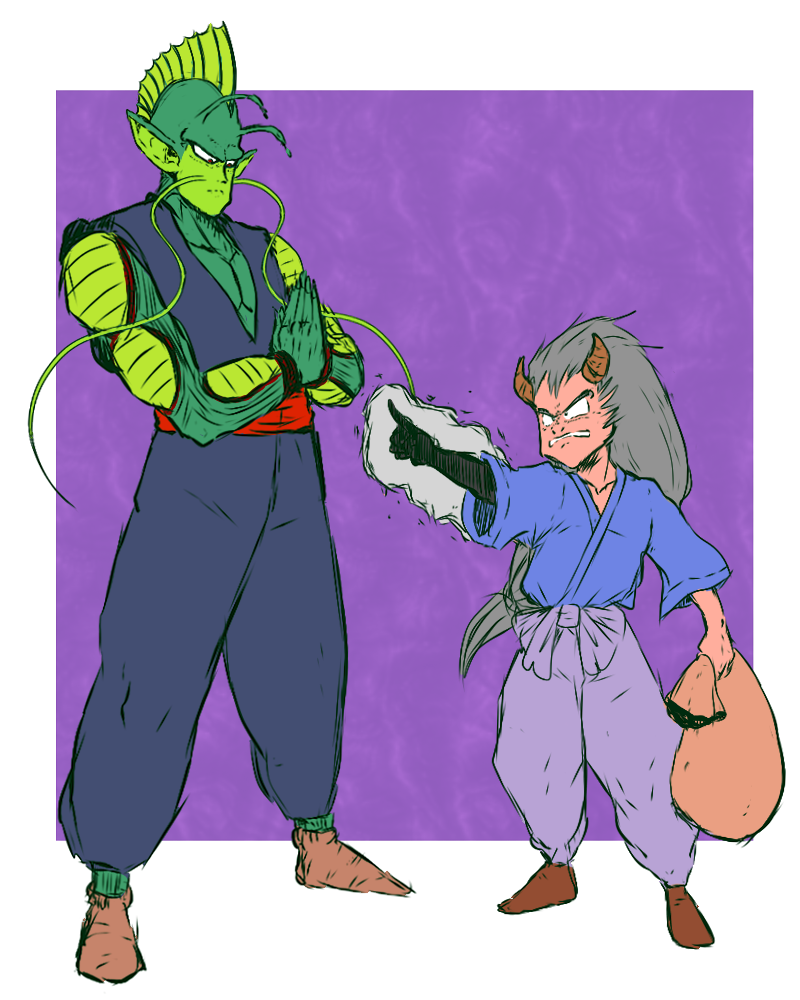 BACKGROUND: Mollusc was born on Namek as one of many of the Warrior Caste. But he was born with some odd traits. He was born from the Egg of a Mazoku Tribe Warrior, who had fallen in battle when trying to attack and kill some Warrior Caste Namekians. He spat the egg out to carry his legay and that egg was found. Taken back to the Dend Captial, the Egg would soon hatch and Mollusc would be born. However, he didn't carry the legacy of this Mazoku Warrior. Even if he had some odd draconic appearances. This odd appearance for a Namekian warrior made some believe that he could have Dragon Caste abilities, or even be some sort of chosen one for Porunga. He was raised to have that belief from a young age as he trained to be a powerful Namekian Warrior.
In his training he grew to be a mighty warrior capable of defending the planet. But he also tried to dabble in the Dragon Caste Arts. Because he was believed to be special, he took that in stride. He was arrogant and believed himself to be this chosen warrior of Namek. The Super Namekian that lead the planet into a united era. But he found in his training despite years of work he had no magically talent. He was a great warrior, and he has the look, but he was not magically inclined. His arrogance couldn't allow himself to accept that, so he kept training. He grew stronger but his magic potential never rose. Soon, the people that believed him to be special would turn their backs upon him. He had a look to him but he was no great Namek hero. He was just a Namekian.
For most people they would accept this and move on. They were just like everyone else, there was nothing wrong with that. But Mollusc believed himself to be special. To be chosen by Porguna to be his champion! So he had to prove it. He began to spar more aggarsivly with his Fellow Namekian warriors. He would attack Mazoku who were attacking his homeland with brutal violence. Far more brutal then many of his kin could stomach. He would ignore the calls of his Dragon Caste Breathen to calm his mind. He knew better, they had a poultry connection to Porunga compared to him.
But when he had turned Five, he had made his great mistake. During a Sparing match with one of his fellow Namekian warriors, he took the battle too far and killed him. Mollusc at first didn't care, it was an accident and he was special. If he made a mistake he be forgiven. But when he looked upon the eyes of his fellow Namekian warriors, all he saw was shame. Shame of the man he was. Mollusc finally got to see, he had lost his way. The way of Porguna. He was not special, in fact he was the opposite of what a Namekian should be. A Serene and focused warrior. Shame filled his heart and he cast himself away from the Heart of Namek. He would head deep into the lands of the Mazoku to live alone. Seceluding himself for the next five years, Mollusc tried to find some inner form of peace. He avoided the abttles that inflicted Namek, because he didn't wish to return until he could say he had found his way again. But five years have passed. And the way is still very clouded.
COMBAT INFORMATION
TECHNIQUES: You start with Three Standard Technique Slots and One Sparking Slot that you can use any way you like. Some species start out with additional slots, or access to certain slot-based abilities for free. You also start with two additional Utility Technique Slots.
Light Offensive || Dragon Breath
Mollusc Opens his mouth firing a burst of red energy that takes the shape of a Dragon Head!
Power: 40%
KP Cost: 2 KP
Variants: +3 Power
Medium Offensive || Dragon Gunfire
Mollusc pulls his arms back and fired a series of Red Ki blasts down at a target. The Chain Gun of Ki blasts exploded in a series of firey explosions!
Power: 70%
KP Cost: 4 KP
Variants: +4 Power
Heavy Offensive || Porguna Commandment
Mollusc Forms a Giant Ball of Ki which floats into the air. It eventually splits apart into Seven Ki blasts that take the shape of Dragon Heads that go to bite down and explode on his foe!
Power: 100 %
KP Cost: 6 KP
Variants: +5 Power
Light Defensive || Afterimage
Mollusc vanishes with a great burst of speed leaving an Afterimage of himself by moving with such great speed.
Power: 60 %
KP Cost: 2 KP
Variants: Evasive, +1 Power.
10k Slot
Medium Deffensive || Dragon Shell
Mollusc raises his arms to form a giant barrier of Ki around himself. It takes the form a Hexagon shaped barrier that fully surrounded his body to protect from all matter of attacks!
Power: 70 %
KP Cost: 4 KP
Variants: +4 Power.
Flight: By some means, usually through a skillful application of your ki, you are able to fly through the air.
Ki Sensing: A technique that allows you to sense, measure, and differentiate the ki signatures of ki attacks and all living beings without the Anti-Sense trait. Higher ki signatures are easier to sense and can be sensed at greater distances than lower ones. This technique is passive and does not use KP.
ADDITIONAL NOTES:N/A
STARTING LOADOUT:20,000 Powerlevel, 2,000 Zeni