Post by Tomoma on Nov 21, 2022 15:35:37 GMT -5
GENERAL INFORMATION
NAME
: Tomoma
ALIASES
: N/A
AGE
: 17
GENDER
: Male
SPECIES
:Saiyan | Saiyan Pride | Burning Ki | Zenkai
GENERAL TRAITS
: Deep Pockets | Antisense
STARTING PLANET
: Earth
HOME REGION:
Western Wilds
---
CHARACTER DESCRIPTIONSAPPEARANCE
:
Kuroo Tetsurou | Haikyuu | Official Art (Source From MyAnimelist)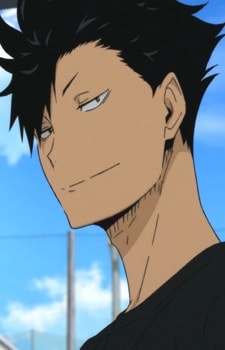 Tomoma is a rather tall Saiyan standing at five foot ten inches entering the peak of his age. His hair resembles that of a lower class Saiyan, however he seems to have a small downward cowlick hovering over his forehead. On occasion the cowlick itself some times covers the boys eyes. The top of his hair seems to stay at half an inch in height with each fiber of hair always sticking straight up, with the exception of a slash like scar running down the back of his head.. His facial features are more or less typical that of a Saiyan, save for his eyes being more slanted, and his lips flatter than most other saiyans. His eyes are still a dull black like most of his other kind. His long fluffy black tail was last measured at four feet long.
Growing up on Earth Tomoma only ever wore earthling fashion. His typical attire consists of his previous private school uniform. The uniform is primarily red, with the trim being golden. A moderately sized crest with an X slicing through a circle adorns the upper right area of the schools blazer directly above the pectoral muscle. The pants are matching in color, however the bottoms of each pant leg is always folded showing the top of each students shoes or rather what they might be hiding inside their socks.
Outside the school Tomoma normally wears a casual set of clothes. With a preference for shirts with animal designs on the front along side more comfortable baggy bottoms that let his legs move. He typically skips shoes all together not being bothered by the asphalt on his feet.
BACKGROUND
:
16 Years Prior...
It was a dark night on Planet Planet as the sound of a crying child echoed throughout the saiba wastes. The grueling sound managed to drown out the stomping sound of a saiyan trudging through the Ruined Metropolis with a space pod resting on his shoulder. "You know Tomoma. We did this" The Saiyan pronounced loudly with a booming a hearty tone. He was proud of what the Saiyans had done of Plant Plant obviously. Tomoma still being an infant didn't understand it, however the man let out a growl which seemed to turn the babies screams into muffled sobs. The Saiyan stared down at the child with distaste. "Real Saiyan warriors did this that is" He finished as the space pod slammed to the ground in front of himself.
"A race of Saiyans that you'd bring disgrace to" The man said as the pod opened and he threw the child into without a care. The infants head bumping hard against the back of the seat before belts shot out and bound the saiyan child to the same seat.
The Older Saiyan warrior turned towards Tomoma only once more looking over his power level. "A power level of one... I would have been better off not even having a failure like you" The Saiyan growled slamming his fist on the navigational system putting a random location down as the pod began to close. "Feel lucky child. If your mother hadn't opened her mouth I would've slaughtered you right out of the womb" The saiyan warned throwing a nameplate with Tomoma's name on it. The nameplate was in a universal language for whoever decided to take the leftovers from the greater saiyan race.
In a moment the pod closed. The coordinates set and finally the pod shot from it's starting point and began to soar through the skies. For a moment the mans hand lifted a ball of ki building up to shoot and explode the pod, however he let his hand fall. "Tsk. Dont forget your pride as a Saiyan trash" The Saiyan said turning as he walked away.
Space
Roughly a few minutes after launching the pod activated a stasis effect putting the young Saiyan into a coma like state, however as it persisted through the vacuum of space the pod would venture through a rather dangerous field of asteroids. The large asteroids knocked the pod around with ease both damaging the pod and knocking the head of the child around causing his head to eventually get cut and bleed at the back towards the end of the journey. Unfortunately the pod had taken the path through Saturn's ring. After another day the pod landed in a deserted desert on a planet with one of the lowest power levels. The planet in question being Earth.
Earth
After crashing into earth Tomoma's pod began to activate a safety feature opening the pods door to release the passenger. Tomoma still dazed and forgetful began to crawl out of his pod, but before he had the chance to let out a sob a laugh could be heard as two people walked towards the pod. A female with long blond hair, and a male with bright red hair walked forwards. Their eyes keen on the new species to land on their planet.
"So this is the gift from space?" The girl asked towards the male. "Again Charlotte. Alien invaders aren't gifts" The man commented walking closer to her as he inspected thee child. "Huh? I was expecting grey skin" The man joked as the blond stomped his foot. "Enough" She said with a scowl.; Obviously not too keen on the comment. "I think he's a keeper Mark" Charlotte said with a beaming smile turning to where Mark was.
To her surprise Mark had already made his way to the space pod and began looking around as he pulled out the name tag. "Tomoma huh?" Mark said cocking his head. "Weird name for a kid" Mark admitted walking back over. His hands took Tomoma from Charlotte's hands and held him high up.
The height would make any normal child cry, however Tomoma seemed to enjoy it giving a giggle as Mark smiled back. "Fine. We'll keep this guy our little secret Charlotte, but he's studying under me" Mark claimed proudly. "You wish" Charlotte said with a snide tone "You're a third rate quack with a fourth rate research lab" Charlotte teased causing Mark to blush. "WE'RE MARRIED!" Mark shot back obviously flustered. The loud shouting caused Tomoma to begin crying as the two quickly restrained themselves. "Lets just get back and analyze his pod. We'll have to tell him about this in the future but for now." Charlotte said stealing Tomoma from Mark. "For now he's mine" Charlotte said beaming brightly. With that the two adopted the Saiyan and brought him home.
17 Years Later
After sixteen years living on earth Tomoma was finally enrolled into a school in Central City after being homeschooled for fifteen years. Unfortunately due to his lackluster intellect he was only enrolled into one of the schools hosting some of the cities more vile delinquents. Tomoma knowing nothing of the cruelty of the world sets out on his new adventure to conquer his school academics and hopefully avoid the bullies that surround him.
---
COMBAT INFORMATION
TECHNIQUES
: You start with Three Standard Technique Slots and One Sparking Slot that you can use any way you like. Some species start out with additional slots, or access to certain slot-based abilities for free. You also start with two additional Utility Technique Slots.
Technique Type: Light || Orin Combo
A powerful string of fists, ending with a double axe-handle to the head!
Power: 20%


KP Cost: 1 KP


Variants: N/A

Technique Type: Light || Afterimage
The user moves so fast that they leave behind a false version of their body that deceives the naked eye. If they're struck, then this false form will fade.
Power: 60%


KP Cost: 2 KP


Variants: Evasion Defense

Technique Type: Heavy || Death Saucers
A vicious pair of razor-sharp energy discs. This powerful attack can be controlled remotely, allowing its cutting power to home in on its target no matter where it goes.


Power: 60%


KP Cost: 6 KP


Variants: Homing Piercing

Technique Type: Heavy Sparking || Nuclear Beam
The user spreads out their hands before bringing them together in front of their chest. While in motion they actively force the ki inside their body into one point on the palms of both hands. The ki itself is overcome by a purple and green haze as the user releases it in a straight beam that is able to deal damage equal to 110% of the users total PL.


Power: 130%


KP Cost: 6 KP


Variants: Preparation

Utility Technique || Flight


By some means, usually through a skillful application of your ki, you are able to fly through the air.

Utility Technique || Ki Sensing


A technique that allows you to sense, measure, and differentiate the ki signatures of ki attacks and all living beings without the Anti-Sense trait. Higher ki signatures are easier to sense and can be sensed at greater distances than lower ones. This technique is passive and does not use KP.


ADDITIONAL NOTES
: N/A
STARTING LOADOUT:
10,000 PL, 10,000 xp & 2000 Zeni
COMPANION APPLICATION:
N/A